FireShot is an extension for Firefox, Internet Explorer, Chrome, Seamonkey and Thunderbird that captures, edits, annotates, organizes, exports, uploads and prints screenshots of your web pages.
Press PrintScreen and can't grab the entire webpage because it is longer than the browser window? You need FireShot!
Unlike other extensions, this plugin provides a set of editing and annotation tools, which let users quickly modify captures and insert text and graphical annotations. Such functionality will be especially useful for web designers, testers and content reviewers.
Screenshots can be saved to disk (PDF, PNG, GIF, JPEG, BMP), printed, copied to clipboard, e-mailed and sent to external editor for further processing.
The captures can be easily uploaded to Facebook, Flickr, Picasa, ImageShack, EasyCaptures, custom FTP or HTTP server.
Tired of inefficient utilites that capture only currently displayed area of the page?
FireShot extension integrates with browsers to provide captures of either the entire web page or the currently visible area only or selected region.
FireShot knows what you need.
FireShot took all the best from analogues including transparent GUI, vector graphic tools and bitmap processing algorithms. All you need to get a well-designed screenshot is to capture page, apply transformations, add annotations if required and save it. (more about features...)
FireShot has a transparent GUI and is an easy-to-use timesaver.
Currently web pages are captured by more than 350,000 users daily. Have some doubts? Make sure you've seen this demo.
Please note, that a more powerful version of screen capturing software is also available!
FireShot Pro is an advanced version of this popular extension for Firefox and Internet Explorer that creates and edits screenshots of web pages. Read more...
| | | |
| --- | --- | --- |
| | | You don't need to download anything to upgrade from the Free to the Pro version of FireShot! Just click "Switch to Pro!" in context menu of FireShot's tool button (Firefox and Internet Explore browsers) or switch to Pro inside of FireShot editor |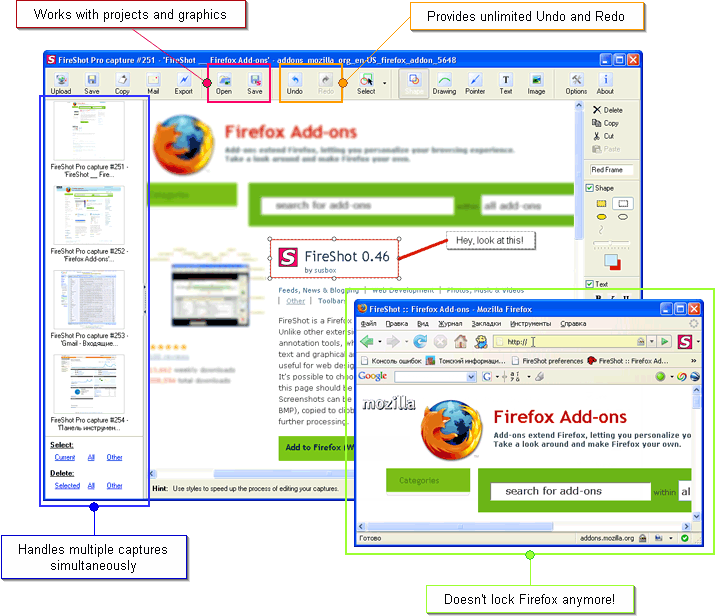 Switch your FireShot into Pro mode and you will get :
Multi-editor interface. Switch between captures, use clipboard to exchange annotation objects between them.
Uploading to Flickr, Google Picasa, ImageShack, EasyCaptures. Use these services to store your captures at image hosting engine.
Easily customized uploads to FTP and HTTP servers. For example, you can automate the bug-tracking engine you're using, or simply store images at your server.
Organizing files into projects. Everything can be stored as a project without anything being lost. You can re-load it and continue your work exactly at the place you stopped previously.
Saving and Loading graphic files. For example, you can add comments to photos by dragging and dropping them onto the Editor. They will be opened automatically.
Unlimited Undo. Don't be afraid of experiments - everything can be rolled back!
Work with clipboard. Copy any bitmap to your clipboard in your favorite editor or take a screenshot by pressing Print Screen and open it in FireShot in two clicks. Have a nice screenshot in Internet Explorer? Now you can easily transfer it to FireShot. With FireShot you can edit anything that can be copied to your clipboard!
Independent window. You don't need to close FireShot's editor to continue navigation. Now you can surf and capture webpages without simultaneously..
Printing. Browsers sometimes do not print documents exactly as you want them to. FireShot Pro will give you the exact printout you want.
Custom bitmaps for watermarking.
http://screenshot-program.com/fireshot/